Acupuncture Treatment at Arlington Chiropractic Clinic
Acupuncture is based on the rich, time-honored tradition of Chinese medicine, which has been enhancing life in Asia for thousands of years. Chinese medicine operates on the basis of the meridian system, which is a network of energy pathways connecting all of the organs and systems of the body.
When one or more meridians become out of balance, disharmony and dis-ease can result. These imbalances can affect the body in very specific ways, making related organs and systems vulnerable to illness, both acute and chronic.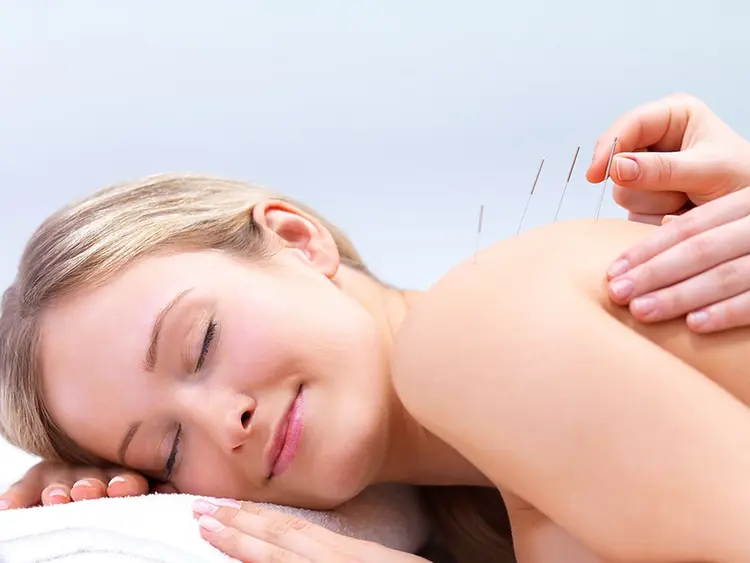 Our Chiropractors in Arlington Heights Bring Holistic Healing To Its Residents
Our chiropractors in Arlington Heights are proud to offer acupuncture as a complement to our more traditional chiropractic services. Acupuncture and chiropractic care work very well together, regulating the flow of energy in the body and ensuring all parts and systems are operating in full harmony.

The traditional type of acupuncture utilizes extremely fine needles inserted at specific points along the meridian lines. This insertion helps to regulate the energy of the channel, and it either draws in or lets out energy accordingly. Your acupuncturist draws upon years of training and experience to create the ideal healing protocol and ensure optimal results with each acupuncture treatment.
What is Acupuncture Able to Treat?
Currently, acupuncture is used to treat conditions like:
Muscle spasms and pain
Chronic back problems
Headaches, including reducing the frequency and intensity of migraines
Neck pain
Osteoarthritis
Knee pain
Allergies
Stress, Anxiety, Depression
Digestive issues
Menstrual symptoms and infertility
Fibromyalgia
Tennis elbow
Whole-Person Healing at Arlington Chiropractic Clinic, PC

Don't suffer with aches, pains and chronic injuries for another day when effective treatment is available. We'll start with an exam and thorough diagnosis to ensure we create the optimal treatment plan for your current medical status and health goals.

Our chiropractors at Arlington Chiropractic Clinic, PC are dedicated to your total health and wellness for continued quality of life. We believe in a whole-person approach and pledge to treat every illness and condition holistically. Contact us today to schedule an appointment at (847) 259-4493.